Setting up the router Xiaomi
First, connect the ISP's internet cable to the blue port of the router. And we connect the router to the computer using the cable that comes with the router. It is necessary to connect the cable to any LAN port of the router and to the port of the computer's network card. It is also possible to connect to the router via Wi-Fi, for this we find the router's network from the list of available networks (if the router is new or the settings on it are reset, then the network is called "Xiaomi _ ***") and connect to it.



Initial setup
You need to open a browser and type the address http://192.168.31.1 or http://miwifi.com in the address bar. In the page that opens, click the Agree button.

Select Mode (Set up WiFi Network).

Set the desired name and password for the Wi-Fi network (the password must be at least 8 characters). And press the Next button.

We indicate the administrator password, which will be needed in the future to enter the settings of the router. And press the button Set up successfully.


We are waiting for the router to apply the settings and reboot.



After rebooting, you need to select the Router admin page or go to the settings again by typing the address http://192.168.31.1 or http://miwifi.com. If you connect to the router via Wi-Fi, you need to reconnect to the network.

If you need to enter a password at the entrance, then we indicate the administrator password that was specified during the initial setup.



Internet connection setup
In the page that opens, go to Settings - Network Settings.
In the Connection field, select PPPoE.
In the Mi Account field, indicate the login, and in the Password field, indicate the password from the Internet agreement.
We save the changes by clicking the App button

Changing the binding to the device
Go to the Status section and in the Router info section you need to tell the technical support the value from the MAC Address field. Or you can change the MAC Address yourself in your personal account.

Advanced Wi-Fi wireless setup (optional)
If you need to change the Wi-Fi settings for each network separately in the range (2.4 GHz and 5GHz), such as: change the network name (SSID), password, or Wi-Fi network channel. Then go to Settings - Wi-Fi Settings and change the corresponding fields, and save the settings with the App button.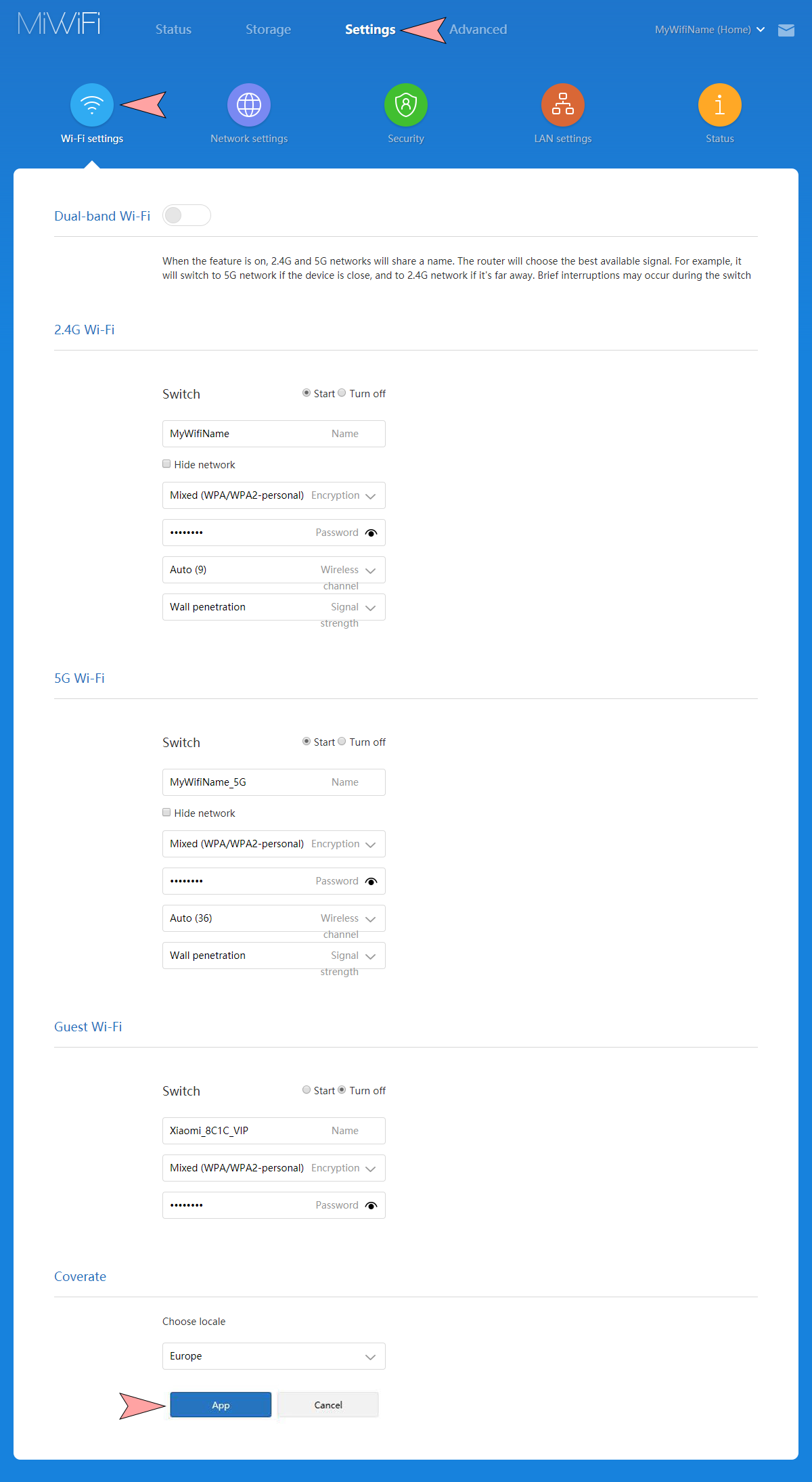 The router configuration is complete.
Помічник від «BRIZ» в Telegram
Ви зможете переглядати інформацію по ваш обліковий запис
Ви зможете змінювати MAC-Адреса вашого пристрою
Приєднуйтесь до нас в Telegram